some of you may have no idea what i'm talking about but it's a HUGE tradition in the south with football
(because high school football rules over everything down this way)
, homecoming mums are BIG & i mean BIG!!!! the bigger the better
(you know everything's bigger in texas)
! i remember the girls with the triple flower mums & then the over the shoulder mums came out & i was in awe!! i remember one year my dad bought me & my sister mums with a real flower. man i thought i was so special!!!
triple mum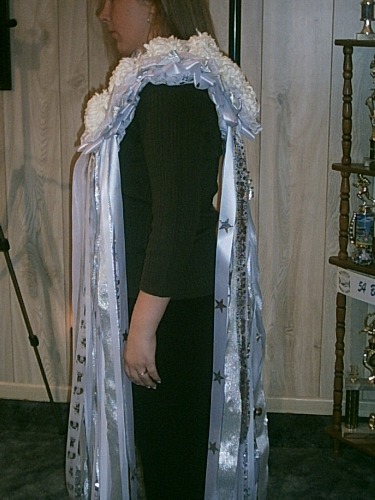 over the shoulder mum
see i told you the bigger the better. actually the first year jess got a huge mum, we found this lady that made one for pretty cheap & it was gorgeous & it was too long so last year we made her own, it was a totally different flower than usually used, it was peony or something like that & everyone ohhh & awed over it, we made it a lot shorter due to the previous year it was too long & she almost fell on it. it was really nice & simple but still pretty. well this year she has her first real date for the game & the dance. she is so excited so we made the garter for her 'friend'. i showed her a little of what to do & she made it for the most part all by herself. i just helped with the finishing touches & securing everything & in the process i burned the shit out of my thumb!!! hot glue is a bitch when you touch it before it cools. ;o)
putting on the letters for their names
the mess it causes, she was actually texting him at this time to find out if he put both their names on her mum
i didn't know if we should put her name on his garter because they aren't dating, it's just two friends going to the festivities together, he told her it was tradition to do so, so we put her name on there too. i will have a pic of the kids together with their garter/mum on before the game & post later. this is such an exciting time, she has never been on a real date where the guy picks her up so i hope she behaves herself! she's a good girl for the most part i just hope he can behave as well. :)
here's the mums from the last two years...
2009, see how it pulls on your clothing, i love that eagle head! the bald eagle is the school mascot
2010, love the flower, it's so different! the length was perfect! :)